Ajay and Batu Memorial Fund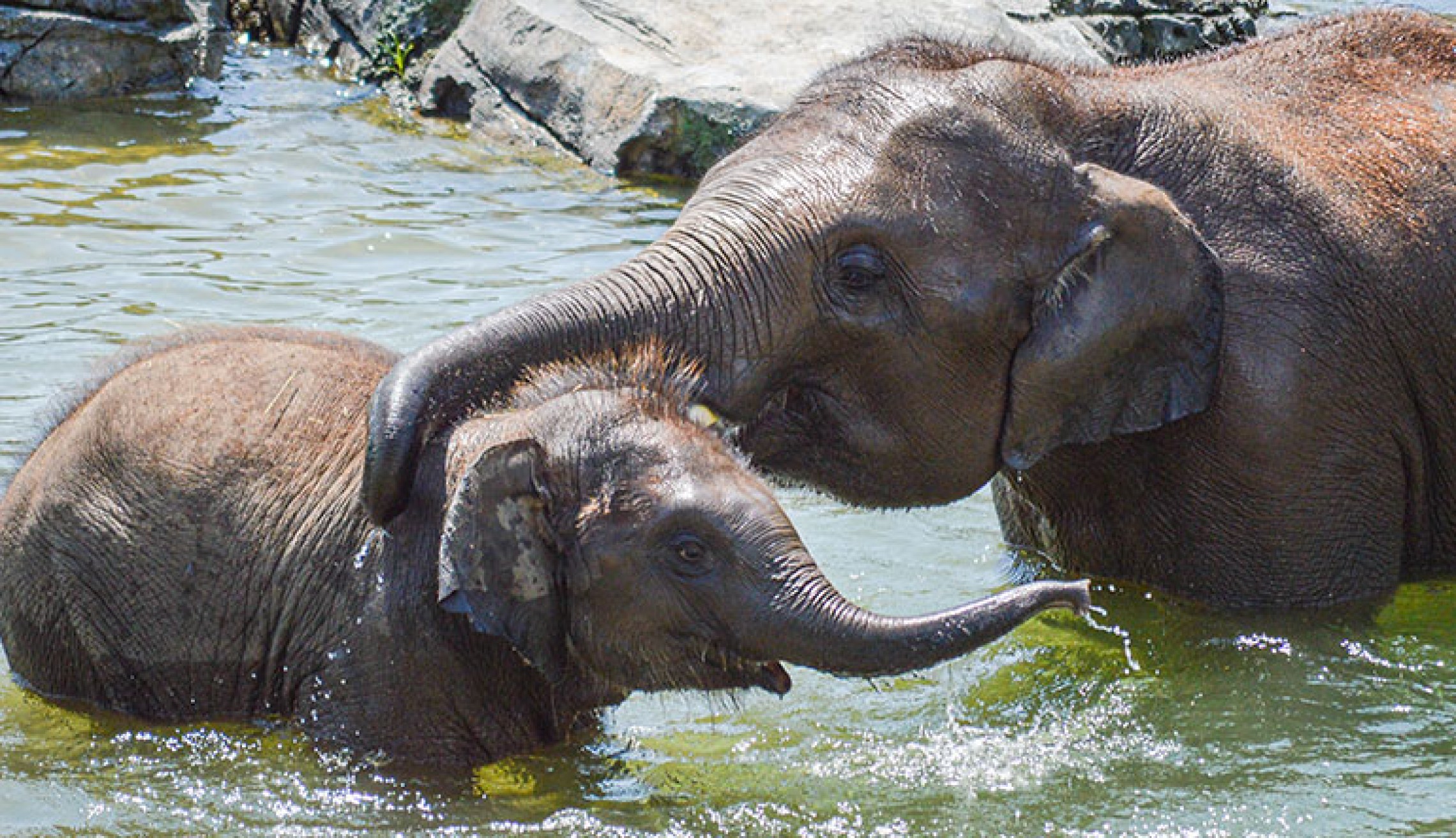 We consider it an enormous privilege to be part of a collaborative effort to save Asian elephants from extinction through a variety of efforts that include working with them on a daily basis and learning everything they can teach us, from birth to old age and in between. Asian elephants are critically endangered in the wild due to many threats, including EEHV. Our commitment to caring for Asian elephants requires us to participate in ongoing research projects to address the threats that are decimating this species in the wild.
On the global front, the Rosamond Gifford Zoo continues to support EEHV research by sending data and samples to the Smithsonian National Zoo, the Conservation Biology Institute EEHV Lab and others, and contributing financially to efforts to develop a vaccine to protect elephants from this deadly disease.
In December of 2020, we lost Ajay and Batu to EEHV. In memory of our "Little Giants", the Friends created the Ajay and Batu Memorial Fund and raised funds to furnish EEHV diagnostic and treatment equipment for the Animal Health Center including a PCR (polymerase chain reaction) machine to test blood for EEHV, a centrifuge for extracting plasma for treatment and refrigerator units for blood and plasma storage.
The Friends of the Zoo Ajay and Batu Memorial Fund continues to support Asian elephant conservation here at the zoo and in the wild.
Your gift in honor of Ajay and Batu will help support this important work. To donate: www.justgiving.com/campaign/ajay-batu-memorial-fund
Thank you for your generosity!
---
Did You Know...
In addition to contributing to research on EEHV, our work with Asian elephants has provided valuable data on many other factors that may impact the survival of wild elephants, such as:
progesterone levels in female elephants and what they tell us about breeding cycles,
what gestational changes female elephants experience in a 22-month pregnancy,
how they nurse their young and the nutrition and weight milestones for elephant calves
how they interact as a family group and form their social hierarchy
how periods of elevated testosterone (known as musth) affect male elephants (whose "aggressive" behavior in musth is cited as cause for shooting them in the wild), and
what leads elephants to raid crops, another behavior that gets them killed in their range countries.
As one of 30 Association of Zoos & Aquariums (AZA) institutions that care for Asian elephants and one of only 11 approved to maintain a breeding herd, we also participate in a Species Survival Plan to maintain an "assurance" population in human care that could be essential in preserving the species if the native population were to crash.