Friends of the Zoo Hires Chuck Anthony as Director of Food and Beverage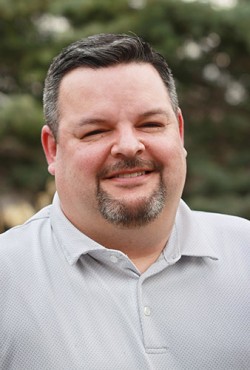 SYRACUSE, NY, March 11, 2021 — Charles "Chuck" Anthony of Liverpool, former food and beverage director for the Marriott Syracuse Downtown, is the new director of food and beverage for the Friends of the Rosamond Gifford Zoo.
Friends of the Zoo hired Anthony to kickstart the zoo's event venue, Catering at the Zoo, after a year-long lull due to COVID, and revamp the zoo's fast-food restaurant, the Jungle Café, among other food and beverage goals.
Anthony has extensive experience creating, branding and managing restaurants, catering operations and large-scale events like the gigantic New Year's Eve parties he brought back to the former Hotel Syracuse, now the Marriott Syracuse Downtown.
He said he is excited to apply his hospitality industry skills to his first non-profit job with the added incentive of supporting the zoo and its animal care and conservation missions. "I consider this a challenge inspired by a good cause," he said.
Friends of the Zoo Executive Director Carrie Large said Anthony has great visions for the zoo's future in the hospitality and events world.
"Chuck is an entrepreneur at heart with a creative outlook," Large said. "We are thrilled to have him on board, not just to get our food and beverage operations back open, but to bring the zoo to the next level as an events venue and a destination."
Among other plans, Anthony wants to move the café away from fried fast foods toward healthy, fresh, local fare and ensure that Catering at the Zoo will more than deliver on the "pent-up demand" for weddings and social events after COVID.
"Maybe our forced break from social events has given people an opportunity to rethink how they do things like weddings," he said. "People will be looking at ways to do things differently, and we can be part of that, especially with a venue as unique as the zoo."
Anthony grew up in Liverpool and graduated from Liverpool High School and Columbia College. He had restaurant history on both sides of his family, which instilled "a love for cooking, entertaining and throwing a big party" that inspired his career.
After working as a bartender and bar manager while attending college, Anthony opened his own restaurant, the River Rock Bar and Grill in Phoenix, NY, in May 2008 and sold it four years later. His former tavern became Duskee's Sports Bar & Grill and he went to work for Turning Stone Resort Casino. He managed the resort's bars, then became beverage manager, then food and beverage manager at Turning Stone.
In late 2015, he became the third person hired on the team that reopened the historic Hotel Syracuse as the Marriott Syracuse Downtown following a $76 million restoration.
"I was hired nine months before they opened and for the first six months I wore a hard hat," he said.
Besides opening and overseeing the hotel's restaurants and bars, Anthony implemented huge events like the annual New Year's Eve extravaganza, the St. Patrick's Day Grand Marshal Gala and SU football Tailgate block parties before Syracuse University home football games.
"I have been privileged to work at some pretty amazing places," Anthony said. "Turning Stone is a landmark. The former Hotel Syracuse is a landmark. And the zoo is a landmark that I look forward to making an impact on."
Anthony resides in Liverpool with his wife, Holli, daughter Mia, 19, son Chaz, 15, and a yellow lab named Mickey.