Rosamond Gifford Zoo Opens New Animal Health Center
Rosamond Gifford Zoo Opens New Animal Health Center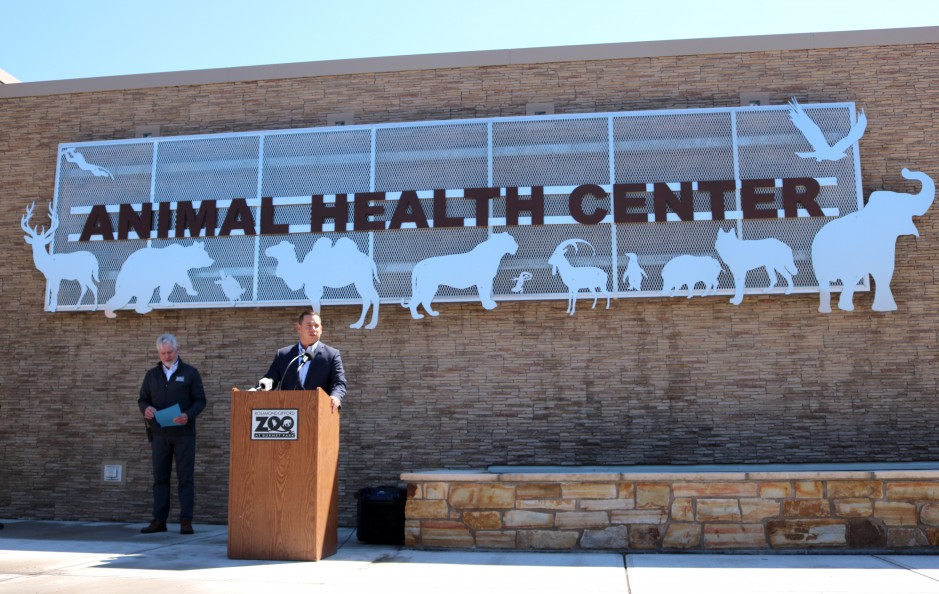 Onondaga County Executive Ryan McMahon officially opened the new Animal Health Center at the Rosamond Gifford Zoo with a ribbon cutting Tuesday, April 12.
The opening of the health center caps more than a year of construction and over a decade of planning to replace the zoo's small, in-house veterinary clinic with a free-standing, 20,000-square-foot zoological medical center, said Zoo Director Ted Fox.
Onondaga County Executive Ryan McMahon called the new health center "a historic accomplishment for our internationally accredited zoo and for Onondaga County." The health center is the largest zoological medical center in New York State outside of the Bronx Zoo.
Onondaga County allocated $7.5 million to design, engineer, build and landscape the health center, while the Friends of the Rosamond Gifford Zoo launched a capital campaign to furnish it with state-of-the-art medical equipment, he said.
The "One Health | One Mission" campaign has exceeded its $1.1 million goal due to the support of community members, organizations and foundations, said Friends of the Zoo Executive Director Carrie Large.
The new facility will provide world-class health care from prenatal to geriatric, to every animal at the zoo. It will expand the zoo's role as a teaching hospital for Cornell University College of Veterinary Medicine's zoological medicine program and offer meaningful opportunities for zoo visitors to observe animal health care in action, Fox said.
County Executive McMahon said the county and the zoo designed the health center with an eye for public education and transparency – literally. Expansive windows offer views into treatment rooms, surgical suite, nursery/ICU, animal nutrition kitchen and research lab so visitors can experience the work that goes on behind the scenes for animal care and welfare at the zoo.
"Our world-class zoo will now have a world-class Animal Health Center that will give our community and our visitors a front-row seat on the amazing work that happens right here on behalf of animals at our zoo and around the world," he said.
The new health center also will meet and exceed the ever-higher standards for accreditation by the Association of Zoos & Aquariums (AZA), whose 240 member institutions must demonstrate a commitment to animal care, guest education, wildlife conservation and preserving threatened and endangered species.
More space and a dedicated laboratory will expand the zoo's ability to treat more and larger animals on-site and contribute to research advancing animal science, Fox added.
A separate but adjacent animal quarantine facility will meet best safety practices for bringing new animals into the zoo, with four specialized areas to meet the needs of carnivores, primates, aquatic animals and birds.
The health center also houses a special feature: a Junior Veterinary Clinic. The "clinic," created by the Friends of the Zoo and supported by the Herbert S. and Eleanore L. Howard Charitable Foundation, is designed to provide imaginative play space for learners of all ages and abilities to engage in pretend animal care using toy medical tools and plush animals.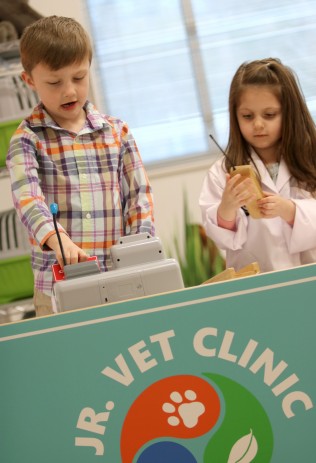 Friends of the Zoo Executive Director Carrie Large said zoo guests are welcome to bring children to visit the Animal Health Center and play in the Junior Veterinary Clinic as part of their zoo visits.
The new "clinic" is a large room off the new Animal Health Center furnished with play stations modeled on a typical veterinary clinic, including waiting room, check-in, exam, diagnosis, surgery and diet.
Large said having the Junior Veterinary Clinic will encourage kids to put what they see and learn into play. Children can bring their own stuffed animals or choose a toy "patient" there and use the stations and toy equipment to role-play as customers bringing their pets to the vet; veterinarians or vet techs performing exams, treatment or surgery on toy animals; receptionists checking patients in or out; preparing diets, "whatever animal care roles they can imagine," Large said.
The zoo's education team is also working to devise Summer Zoo Camp sessions that incorporate the Junior Veterinary Clinic and allow young people to meet and learn from Cornell veterinary and zoo animal care staff.
As an accredited member of the Association of Zoos & Aquariums (AZA), the Rosamond Gifford Zoo is dedicated to providing a strong educational component to inspire visitors to care about animal care and conservation, said Zoo Director Ted Fox. Onondaga County and the zoo took that into account in building the new Animal Health Center, he said.
Large and Fox said every aspect of the health center is meant to serve the "One Health" philosophy that humans, animals and the environment are all connected and the health of one affects the others.
"We named our capital campaign 'One Health | One Mission' because the health center will enhance our mission to connect people to animals, nature and our planet," Large said.
The zoo and the Animal Health Center are open from 10 a.m. to 4:30 p.m. daily, 362 days a year. Visits to the Animal Health Center and the Junior Veterinary Clinic are included in zoo admission. For more information, visit www.rosamondgiffordzoo.org.