Rosamond Gifford Zoo Loses Second Elephant Calf to EEHV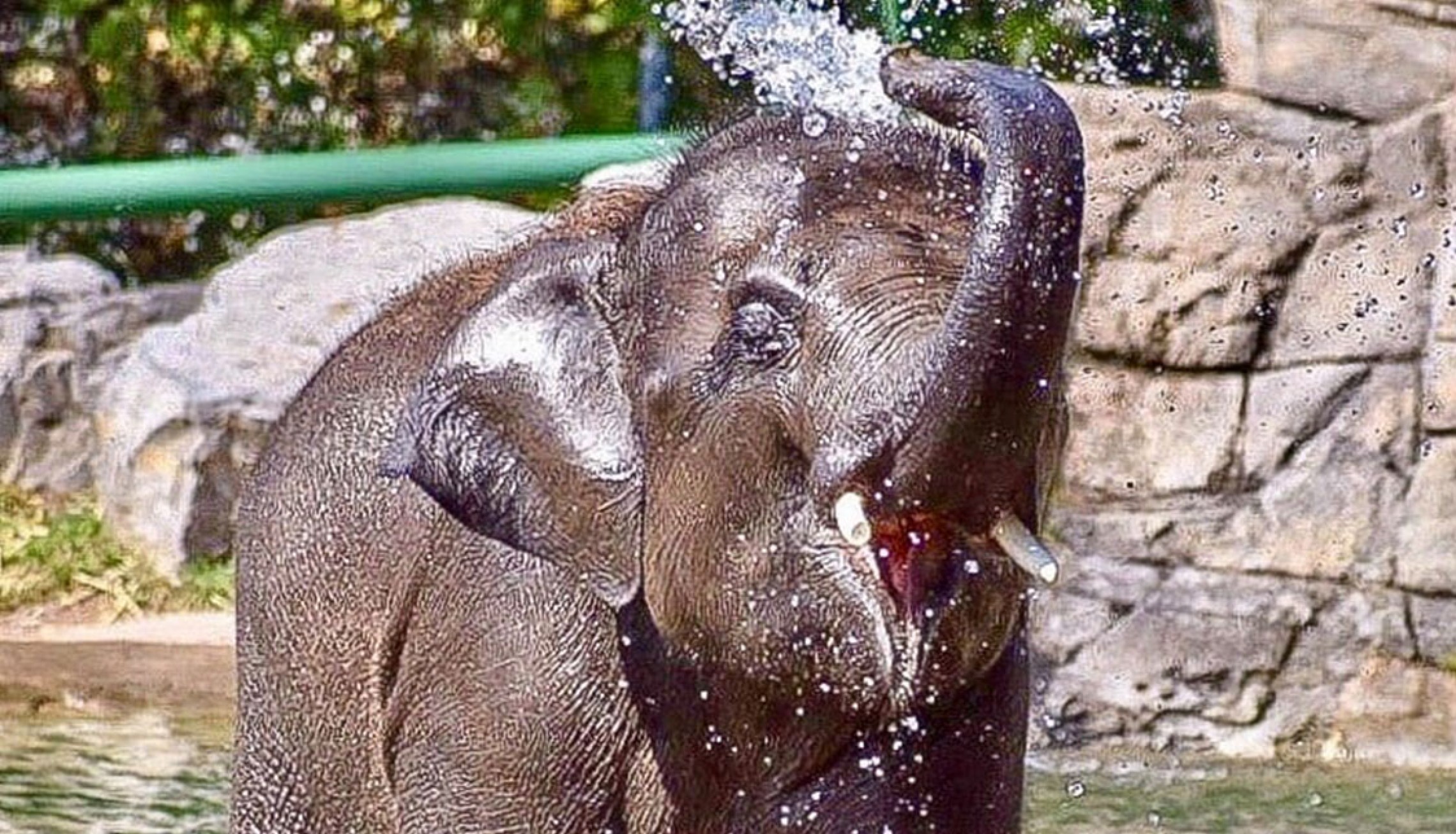 SYRACUSE, NY, December 11, 2020 — The Rosamond Gifford Zoo has lost its second elephant calf to a lethal strain of herpes that targets Asian elephants. Batu, age 5, succumbed to Elephant Endotheliotropic Herpes Virus (EEHV) early Friday morning, said Rosamond Gifford Zoo Director Ted Fox.
Batu's little brother, Ajay, died from the virus on Tuesday. Batu had been in treatment since the previous Thursday, when a blood test sent to the Smithsonian National Zoo Conservation Biology Institute's National Elephant Herpesvirus Laboratory came back positive for the virus. Fox said the zoo's elephant team and veterinary staff from Cornell University College of Veterinary Medicine worked tirelessly all week trying to save Batu while the "viral load" of EEHV in his blood grew by the day.
Besides aggressive treatment with anti-viral and herpes medicines, the zoo gave Batu infusions of plasma from his adult female herd mate Romani. Several fellow member institutions of the Association of Zoos & Aquariums (AZA) also sent medications to assist in Batu's treatment.
"This is obviously the worst possible outcome, and it occurred after more than a week of intensive care by our team in hopes that every day Batu survived gave him a better chance to beat this horrible disease," Fox said.
For most of the previous week, Batu did not show any outward clinical symptoms, but daily blood tests showed the level of EEHV in his blood was increasing exponentially despite treatment. Early Friday morning, eight days after testing positive, "he laid down to rest and never got up," Fox said.
EEHV is the most devastating viral disease in elephants worldwide, both in the wild and in human care. It is the biggest killer of young Asian elephants and can cause death within 24 hours in those under age 8.
EEHV was discovered by the Smithsonian National Zoo Conservation Biology Institute in 1995 after the National Zoo lost a 16-month-old elephant calf to the disease. The Smithsonian established the National Elephant Herpesvirus Laboratory as a result, and the Rosamond Gifford Zoo is a member institution that sends blood draws from its elephants to the lab twice weekly to monitor for the disease. EEHV is believed to be naturally occurring among elephants in a latent form that can become active without warning.
While Batu was in treatment since Thursday, December 3, Ajay had shown no indication of the virus until shortly before he passed away suddenly on Tuesday. An outpouring of grief, sympathy and support from the public and the AZA community helped the team stay focused on trying to save Batu, Fox said.
Fox said Onondaga County, which owns the zoo, has been extremely supportive in providing anything needed to treat Batu. The county maintains the zoo's annual membership in the Smithsonian EEHV lab, allowing the zoo to "overnight" blood samples there twice a week.
County Executive Ryan McMahon called the loss of both of the zoo's young elephants incomprehensible.
"Although we knew this could happen, it's hard to accept," McMahon said. "Words can't begin to express our sadness and grief. Yet we know that as heartbroken as we are, our elephant team and our zoo need our support more than ever."
Batu was the first calf born to mother elephant Mali and bull elephant Doc, on May 12, 2015. His first days were a challenge as he had trouble nursing and was not gaining weight. The zoo team devised a special tube feeding system that ran alongside Mali and successfully trained him to nurse.
Batu grew into a delightful addition to the herd who loved training sessions with his keepers. He was always the first elephant in the pool in warm weather and he had a mischievous streak, often trying to nudge himself between the adult females and their food.
When Ajay was born on January 15, 2019, Batu took an immediate interest and the pair became almost inseparable. The sight of the two brothers playing, wrestling or splashing in the pool together was an adorable highlight for many zoo visitors.
Fox said that despite the crushing losses, the zoo must now focus on caring for its six adult elephants and helping them adjust while continuing its mission to serve as one of the nation's top elephant programs.
The Rosamond Gifford Zoo is one of only 30 AZA zoos equipped to care for Asian elephants and one of only 11 approved to breed them. Asian elephants are critically endangered in the wild, and AZA zoos participate in a Species Survival Plan to manage an "assurance population" in human care to keep them from going extinct.
Fox said everything that AZA zoos learn from working with Asian elephants can be applied to help the wild population – including research on EEHV. "Despite our devastating losses this week, we are more dedicated than ever to continuing our research on behalf of Asian elephants," Fox said.
As with Ajay, he said Batu's parents, grandmother and "aunties" were able to spend time with him after death to help accept that he is gone. His remains also will go to Cornell and contribute to EEHV research.
Fox said that even though the community has lost Ajay and Batu, "they succeeded in doing exactly what they were here to do – to win the hearts of people and inspire them to care about a species that's in trouble halfway around the world."
"If their love for Batu and Ajay leads people to care about saving Asian elephants from extinction, that would be a great way to honor them," he said.